The steps for creating a password through the MyGlue Extension is a comparable experience to the MyGlue web app.
Creating passwords
Open the MyGlue Extension and click Create Password.
Complete the remaining fields and click Save.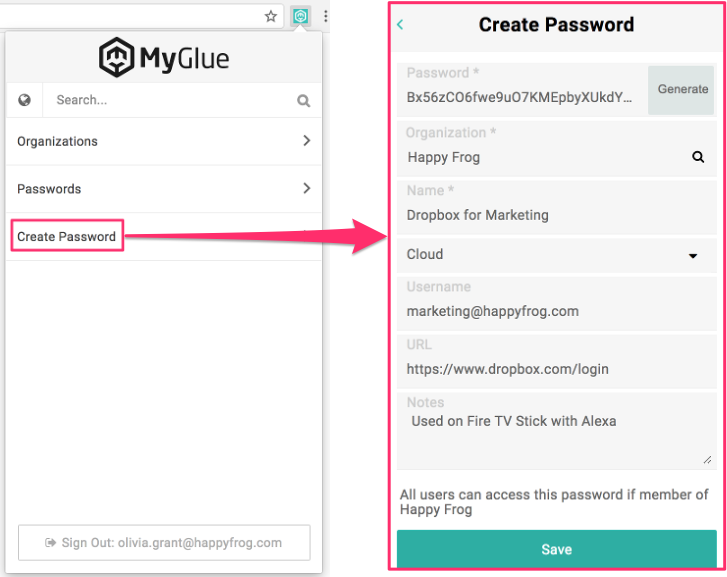 Important. You will not be able to specify security settings when using the extension to save a password. Any passwords created from within the extension will default to the security settings established by your IT Service Provider.

Please use the web app to change the security settings of a particular password.
Managing passwords
At some point, you will need to edit or delete a password. These actions are only available by opening MyGlue directly, or via the extension by clicking the View in MyGlue button. This opens MyGlue where you can sign in and make your changes. Any changes in the web app are immediately reflected in the extension.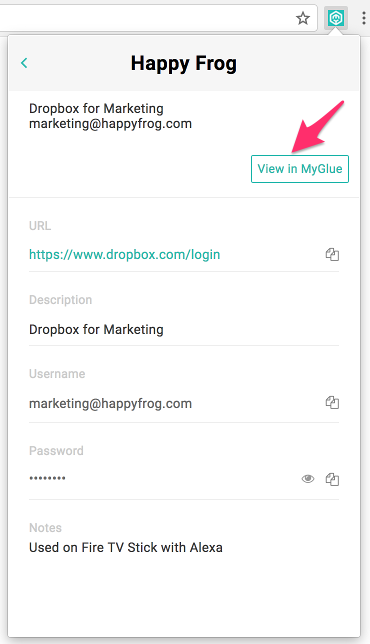 Automatically saving new passwords via the MyGlue Extension
The MyGlue extension can detect if you are logging in to a website with credentials which are not currently stored in your MyGlue account, and will show a prompt to automatically save the new password in IT Glue.
If you are registering or logging in to a website and the extension doesn't recognize the domain and username combination, once you attempt to sign-in, the extension will show a pop-up offering to save the password to MyGlue.

The extension will auto-populate the password record fields, and will allow user to Save the password or not save it and not be prompted anymore, by clicking Never.

The default organization will be the primary organization in the account. If none is designated as "primary" then the first available organization will be shown.

Category and Notes fields will be left unfilled.

User can edit all fields in the pop-up before clicking Save.
Next: Browse related articles