Follow these simple steps to sign in to your MyGlue account via the MyGlue Mobile App.
Before you begin
You should have already received an invitation email prompting you to activate your user account. If you still have a pending invitation, you will need to access the link in the email before you can sign in.
Prerequisites
iPhone users must have iOS version 13.0 or above installed to use single sign-on (SSO) for MyGlue. If you do not have version 13.0 or above installed, an error message "Single-Sign On (SSO) requires iOS version 13.0 and above. Please update your software in order to proceed" will appear. You will need to complete this action before you can sign in to MyGlue.
Signing in
To sign in to the MyGlue Mobile App, start by launching it from the home screen of your device. The first thing you will see is the sign-in screen.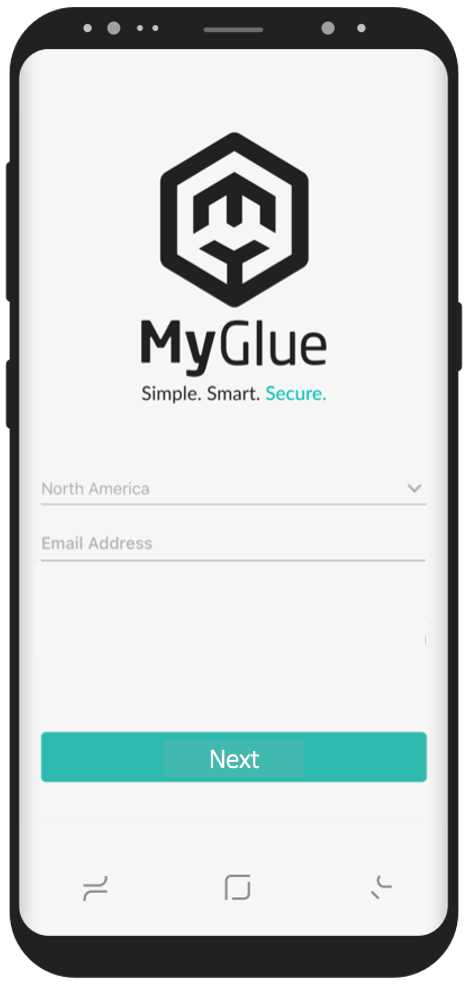 Tap to select your account location, enter your email address, and then tap the Next button.
Note:
If you receive an error after entering your email address, it means that your IT Glue administrator has configured auto-provisioning for your MyGlue account. In this case, you must sign into MyGlue either on our
web app
or through the
MyGlue Chrome Extension
instead. They will have provided you with a MyGlue Account Identifier which you will need to sign in.
If your IT Glue administrator has configured single sign-on (SSO) for your MyGlue account, you will be redirected to your SSO sign-in page. There, enter your usual SSO credentials to continue the sign in process.
If your MyGlue account does not have SSO configured, enter your MyGlue password and click Sign in.



If you have multi-factor authentication (MFA) enabled on your account, you will need to enter the code from your authenticator app to continue.
Session sign-out
When you close the app or send it to the background, your session will automatically expire after five minutes. You can also tap the Settings icon in the bottom right corner and then tap Sign out to end your session.
Fingerprint verification
For MyGlue users that do not have SSO configured on their account.
We support all types of biometric authentication such as fingerprint sensors, Touch ID, Face ID - whichever is present on your device.
With fingerprint verification, you can quickly and easily sign in using a stored fingerprint to confirm your identity and authenticate to your account. You'll be invited to use fingerprint verification with a full screen message when you first sign in to the MyGlue Mobile App. If you are not prompted, check your phone's settings to see whether you have enabled the fingerprint sensor and saved your fingerprint.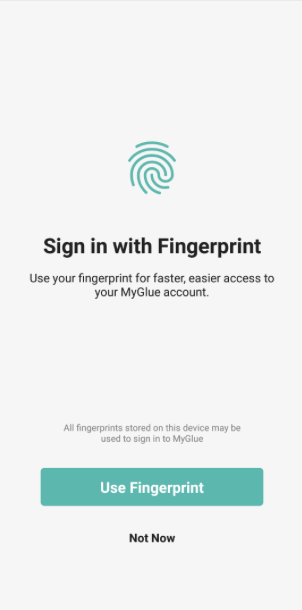 If you skipped this at the time, you have an option within the app to enable (or disable) fingerprint verification in Settings (cog icon at bottom of app) > Sign-in and Security.
Note: You might choose to leave fingerprint verification disabled if you're not the only person with fingerprints registered on your phone. If someone can use fingerprint verification to unlock your phone, they'll also be able to sign in to the app.
Signing in with fingerprint verification
Once you are set up to use fingerprint verification, you'll be prompted to use fingerprint verification on subsequent visits. To sign in, lightly touch the fingerprint sensor.
If for some reason your phone doesn't recognize your fingerprint after multiple attempts, you can sign in with your MyGlue credentials instead.
Next: Browse related articles