This section describes how to troubleshoot common issues that can occur when you use multi-factor authentication (MFA).
To sign in with MFA, you need three separate pieces of information:
Your username
Your password
A numeric code generated by an authenticator app on your mobile phone
How do I sign in without my phone?
In any situation where you don't have access to your mobile device, you can use a one-time recovery code instead of the code generated by the authenticator app. The recovery code looks something like: 3aa7d3d1776f71d5.
You will need to enter your recovery code into the MFA Code field when you sign in.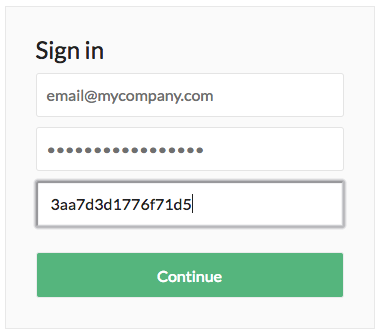 How do I regenerate my MFA code?
The recovery code is a fallback authentication method and not something you typically use. Each unique code can only be used once, so you'll need to create a new one for future use. After you sign in, navigate to the Edit Profile screen and generate a new recovery code to store in a secure place.

How do I reset my MFA?
Follow these instructions if you need to reset your MFA for any reason (e.g. to replace or factory reset your mobile device). After it is reset, you can enable your MFA again.
If you have a recovery code...
Enter your recovery code into the MFA Code field when you sign in and then reset your MFA by disabling and re-enabling it on your account. Set up MFA access again by scanning the QR code and then make sure you save a new recovery code for future use.
If you don't have a recovery code...
Contact your IT service provider's support team and let them know that you've lost both your phone and your recovery code.
I am having MFA sign-in errors / codes aren't working. What do I do next?
Double check the accuracy of the clock on your mobile device. The time-based security code will not validate if the codes are out of sync. Setting your device to be synced with the internet time is essential.
If the time on your authenticator app is not synced correctly, the MFA activation or sign-in attempt may be unsuccessful.

If you are using Google Authenticator:

From Google Authenticator, navigate to the main menu.
Click Settings.
Click Time correction for codes.
Click Sync now.

On the next screen, the app will confirm that the time has been synced, and you can now sign in. This only affects the time of your authenticator app and will not change your device's date and time settings.

Reboot your phone.
After several failed sign-in attempts, your account will be locked. Once it's locked, you will have to check your email for unlock instructions before you can try again.